As lockdown continues, we are sure many of you will be starting to struggle with new ideas to keep the boredom at bay. Look no further! We will be providing you with fun ways to help brighten both your mood and well-being across our blog and social media channels.
We will be the first to admit that pretty much everything we love doing (other than bingeing Netflix) involves getting outside and trying new stuff. For now though, our priority is to do what's best for our health and everyone else's health too, which includes staying at home and staying healthy! We want to support you on your self-isolation journey, so will be providing you with new things to try, that can be brought indoors!
What better way to start than by sharing a little something we have been working on for you. Keep scrolling for our Macb X Eilish McColgan home workout, to help you stay fit while working out at home.
You can only binge watch Netflix and Disney Plus for so long before feeling as fit and energetic as a pile of mashed potatoes with legs. So, we came up with a plan that can be slotted in as part of your new routine easily
To make this plan even better, we teamed up with Team GB Olympian Eilish McColgan to create a workout that makes it easy to work up a sweat and keep fit in even the smallest of spaces.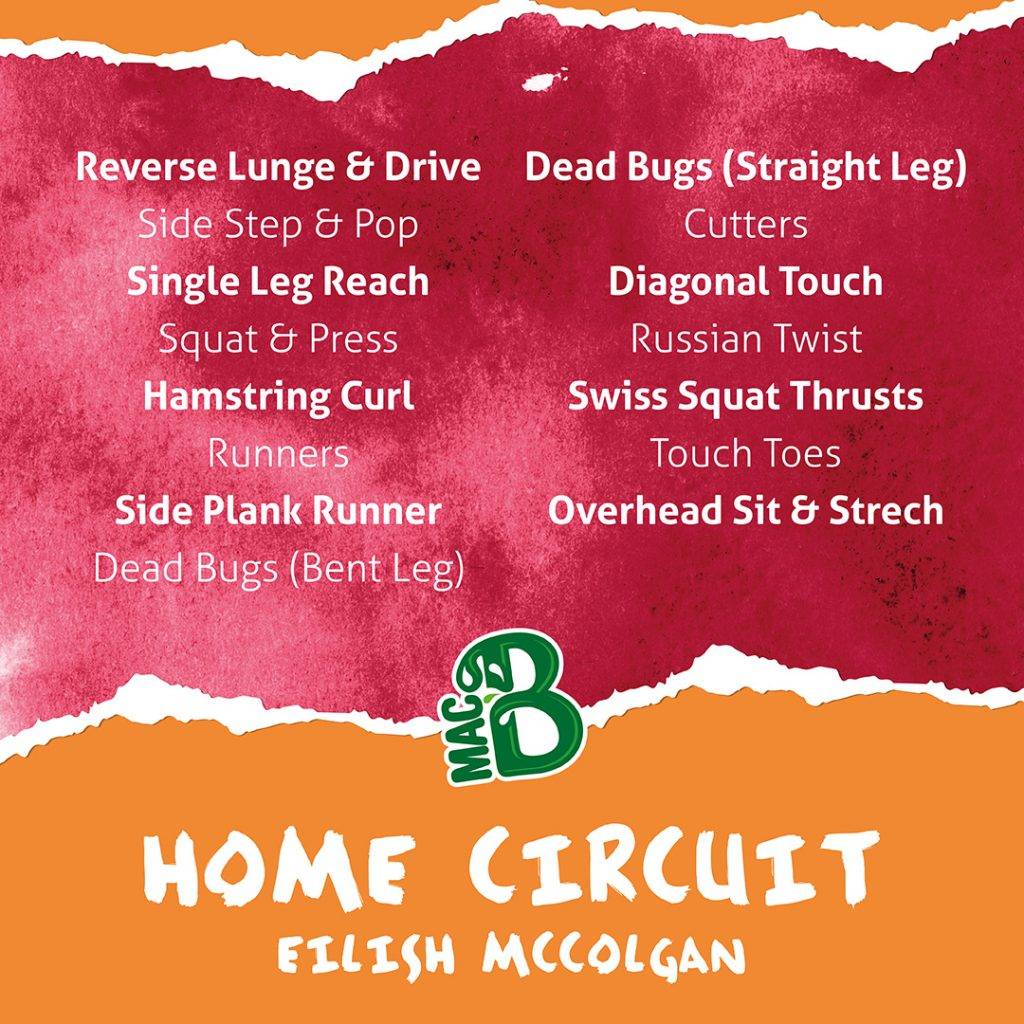 This is the perfect #LockdownWorkout for four reasons:
There's no need to leave your home, which is a big no-no right now. All you need to do is decide what space works best for you and roll out your mat or towel!
Lockdown messes with your mind, especially if you live alone (or have a really annoying flatmate!) Working out doesn't just keep you fit, if keeps you happy. Science has proven this a bunch of times. Google it if you don't believe us.
Don't do it alone! Get your household involved. Or, if you live alone, get one of your friends involved and take part together live on Facetime or Zoom.
Eilish is a double Olympian – she knows what she is doing!
Check out the video below for the full circuit, go give it a try and let us know how you get on by tagging us (and your training partners) on social media! #stayhomestayconnected
And remember, just because we can't go anywhere doesn't mean we have to stop moving.